BECAUSE OF THE colder and shorter days, the supply of fresh eggs from our flock of 10 laying hens has dwindled to almost nothing. From a summertime high of nearly an egg a day from each hen, we're down to a handful of eggs some days and none at all on others.
For an egg-mad house like ours, this paucity of eggs is a serious development. Given the work that goes in to minding hens, I always feel somewhat resentful at having to buy eggs, and I'm generally disappointed with their flavour.
This morning I made some scrambled eggs with some shop-bought ones and was surprised to discover the taste was really average, to the point that I thought I had forgotten to season them properly.
Even the best quality organic free-range eggs you buy in the shop struggle to compete with the taste of home-reared ones. Given that organic hens are probably eating the same food as ours, and presumably have unfettered access to the great outdoors, it's hard to figure why the egg quality isn't as good.
The only conclusion I can come to is that you simply get a happier hen when it's in a small flock of birds and there's no competition for food or pasture. And that happiness is reflected in the quality of the eggs. It's a rather dispiriting conclusion to arrive at, but there you are.
The ultimate sustainable food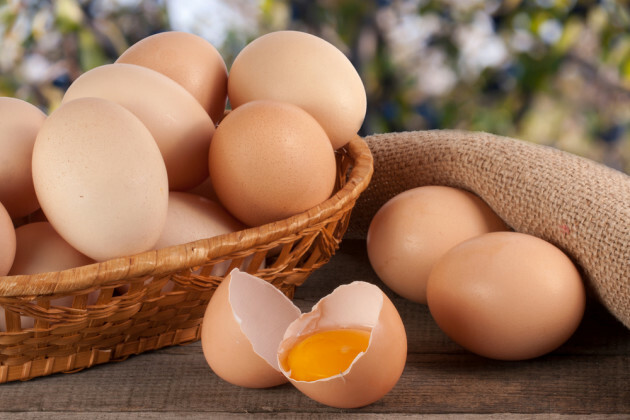 Source: Nataly Studio via Shutterstock
Eggs have a very short trip to take from garden to table here at home. They go from the nesting box in the hen house to the egg tray in the kitchen (usually warm, and in the hands of a small child). All in all it's a journey of about 40 yards, and they rarely last more than a day or two in the egg tray before they are eaten.
An egg really is one of nature's most amazing feats – a little ball of protein and nutrients wrapped up in a low calorie package. An egg contains all eight amino acids as well as vitamins A,B, D and E. They are also a good source of iron, zinc and selenium. Two eggs provide between one third and one quarter of your daily protein requirement.
Keeping some hens in your garden is the ultimate sustainable food production system. The pooh-covered straw from their house goes on the compost heap – the nitrogen-rich compost is then added to the veg patch to improve the soil for growing vegetables. These vegetables then make their way back in to the house (with the eggs) to feed the humans, who turn them in to scraps that are fed back to the hens.
Having your own fresh eggs allows you to produce an entire meal from your veg patch with relative ease. A supremely tasty homegrown lunch or supper can be whisked up in minutes using just a couple of eggs and some fresh herbs or greens from the garden.
I've been keeping hens at home for over 10 years now, and I still get a little buzz of excitement when I see a fresh egg or two on a bed of straw in the hen house. Unless you literally have no garden and are living in an apartment, a handful of laying hens are a viable proposition for most people, and they will repay you with wonderful, fresh food all year around. Well, almost all year round anyway.
The Basics – Hen Housing
The basic requirements for hen housing is that it should be mobile (so you can move it around the garden), secure (so you can lock it at night), weather-proof and ventilated.
Hens roost at night which means they like being up off the ground for safety (historically, they would have roosted in trees) – so the house needs to have a perch for them to sleep on (about 8 inches up off the floor). They will snuggle in close to each other on the perch.
The house also needs a nesting box for them to lay their eggs in, usually first thing in the morning. The nesting box should be as private as possible – they like a bit of privacy to do their business. We line the nesting box with straw. A hen will scratch a little 'well' in the straw before she settles down to lay. The straw helps to keep the eggs clean.
Chickens do half their droppings at night and they are prodigious poopers. So we put a layer of newspaper and wood shavings on the ground (the brand we use is Comfy Bed which is for horses). It's really important to clean the house out once a week. It's a gross job but very necessary to keep your hens healthy. All of the pooh-covered newspaper and bedding goes on the compost heap – it's complete dynamite.
Recipe of the Week – Cheesey Leek Frittata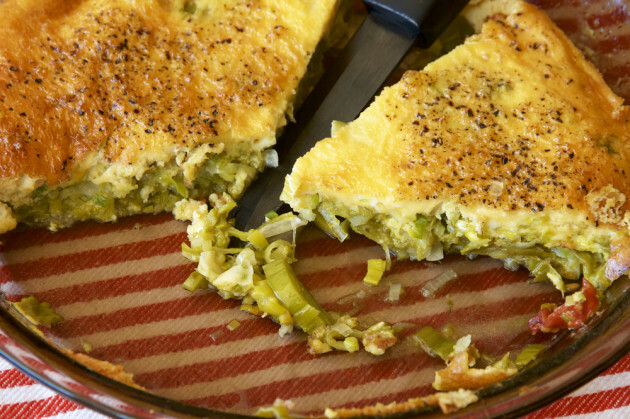 Source: Michael Leslie via Shutterstock
If I am struggling with ideas for school lunches or need a super-quick supper, a frittata is a great get-out-of-jail card. Throw in an in-season leek and some good quality cheddar and it's sublime. Serves 4.
Ingredients
1 large leek, washed and finely chopped
½ tbsp. olive oil
5 eggs
2 tbsp chopped fresh parsley
80g grated Knockanore Cheddar (or any mature cheddar)
Directions
Fry the leek gently in a large frying pan with the oil and 50ml water. Stir regularly to make sure the leeks don't stick and cook for 8-10 minutes. The water should all evaporate off.
Whisk the eggs with the parsley and add 60g of the cheese. Season well with some salt and freshly ground pepper. Pour in to the pan with the leeks and cook on a low heat for 4-5 minutes until the egg is set on the bottom but runny on the top.
Sprinkle over the rest of the cheese and pop under the grill for a few minutes until the frittata is set and lightly browned. Slice and serve. If you're putting it in a lunch box, allow to cool first.
Michael Kelly is founder of GIY and GROW HQ.