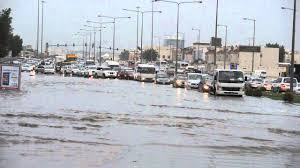 There's no doubt about it, living in Qatar, surrounded by filthy rich Qatari's that drive, Maserati's, Lamborghini's and have their drivers and maids cart their shopping home in top of the range Range Rovers, can be intimidating.   Especially when you're to the pin of your collar trying to keep a second hand Pajero on the road here to keep up the expat jones and put a few quid together to see yourself be the proud owner of a mortgage on a 4 bed detached with enough room to build a conservatory out the back should you ever get off the middle east hamster wheel.
There are few times when us humble Irish expats feel superior or even on a par with the lush lifestyle that most Qatari's enjoy but this week was different. This week, on the 14thFebruary, was National Sports Day in Qatar. Of course, we Irish being no strangers to sport felt at home. National sports day is a fairly recent revelation in Doha and is to promote exercise and sport among all walks of life in Qatar. Companies, businesses and schools close for the day, but bakeries, restaurants and fast food chains, remain as busy as ever. Aspire Park, the Corniche, Katara and several other outdoor venues around Doha planned fun events in an attempt to tempt folks to move past Cinnabon and Burger King and into the fresh air for exercise. This same week Doha was hosting the Qatar Total Open, the professional women's tennis tournament, what a treat to have events of that caliber on your doorstep, again, seems Qatari's can buy anything they want.
So at the start of the week, we stood and gawped at the speed and efficiency at which these events were arranged. Hoarding, boarding, seating and signage, erected in a flash and no mayhem, certainly none reported, in the papers or online, so we assume all went smooth.
But the start of the week a most alarming thing happened, it rained in Qatar. Of course every Paddy worth their salt, loved it. Apart from Tayto's and Rashers, rain is almost the most indigenous thing to Ireland and the most thing that reminds us of home. There is nothing more etched in our psyche than conversations about rain so this week in Qatar, the floodgates opened on all our stifled conversations we've stored since we've left home and off we went, 'it's down for the day', 'it's going to get worse', 'everywhere will be flooded', 'there's worse to come', all the old adages we haven't used in years, we doled them out goodo. Even the kids were in on it, 'will the school be closed?', my heart swelled, they were certainly Irish with that comment.
Then another alarming thing happened, the forecast said that it was going to rain for the week! Now this was where we really reveled and as the plans for National Sports Day were scuppered and the rain wreaked havoc at the Qatar Open on Valentine's Day seeing one of the eleven scheduled matches completed, we no longer felt the intimidation of the fast cars and fat wallets, we were at home. At home when the rain was seeing the nation that could buy anything, up to their ankles in water.
Five days of incessant rain in Qatar and the roads were flooded, the malls were leaking and the paint was bubbling on the front of the houses and buildings as 99.9 times out of a hundred there is no need for soffit and fascia but this week was the exception.
Everyone, ducked and dived, hunched and huddled to the nearest shelter, everyone except us Irish, we stood tall, stoic in the face of drizzle, mist and rain, because we're born to it. And also born to tutting about events being spoiled by the rain so this week in Qatar, swamped in rainwater and the best laid plans that never happened, Qatar felt closer to home than ever before. Maybe it's not wealth, oil and religion that sets us apart, maybe it was just a shower of rain all along.
I will note that determined in their own ambition to succeed, nowhere is it reported in Qatar that National Sports Day and the Tennis have been ruined by the rain. Then again, this is the same media that don't report temperatures over 50'c or deaths on building sites, or exploitation of workers. Bye for now from Sunny Side up Doha.